Job Levels
Next, we're going to take a look at just how much job levels have changed in the past year.

The below graph details the level distribution of main jobs from level 2 to level 75 (excluding level 1).

As an overall trend, the levels have shifted to the higher side. This is a change we see every year and is evidence of the community's continual growth and maturation. The most noticeable change since last year would definitely be the sudden increase in level 5 players. This is probably a result of many of our players wanting to join in the fun with last year's Mog Bonanza (last year the Mog Bonanza required that participants be at least level 5 and purchase a Mog Bonanza Marble).

Let's take a look at the population distribution of main jobs. Level 75, in particular, sticks out. In the first Vana'diel Census since the level cap was set at level 75 in 2004, the percentage of level 75 characters was at a measly 1.70%, but this year that percentage has climbed all the way to 15.60%! Much like last year, the percentage of characters from level 2 to level 30 has decreased and the percentage of characters level 31 and up has continued to grow. It is clear that the reason for these changes is due to the introduction of the Level Sync system, the increase in the amount of experience gained from monsters below "decent challenge," and the addition of the Fields of Valor.


« Main Job Level Distribution (Level 2-75) »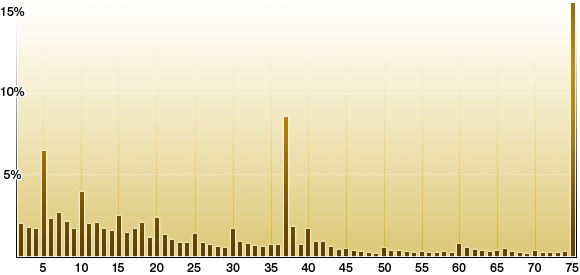 « Main Job Distribution (Level 1) »
| | |
| --- | --- |
| Job Levels | Population Distribution |
| 1 | 62.47% |
« Main Job Level Distribution (Level 2-75) »
Job Levels
Population Distribution
Level Distribution
2
2.05%
Level 2-10
24.98%
3
1.80%
4
1.72%
5
6.51%
6
2.33%
7
2.73%
8
2.18%
9
1.69%
10
3.97%
11
2.04%
Level 11-20
18.79%
12
2.08%
13
1.71%
14
1.58%
15
2.51%
16
1.48%
17
1.69%
18
2.11%
19
1.18%
20
2.41%
21
1.33%
Level 21-30
9.96%
22
1.03%
23
0.86%
24
0.86%
25
1.42%
26
0.86%
27
0.74%
28
0.61%
29
0.55%
30
1.70%
31
0.91%
Level 31-40
17.43%
32
0.81%
33
0.69%
34
0.61%
35
0.74%
36
0.73%
37
8.61%
38
1.87%
39
0.73%
40
1.73%

Job Levels
Population Distribution
Level Distribution
41
0.91%
Level 41-50
5.06%
42
0.92%
43
0.61%
44
0.46%
45
0.48%
46
0.37%
47
0.30%
48
0.26%
49
0.20%
50
0.55%
51
0.35%
Level 51-60
3.43%
52
0.34%
53
0.30%
54
0.26%
55
0.32%
56
0.27%
57
0.24%
58
0.28%
59
0.25%
60
0.82%
61
0.54%
Level 61-70
3.68%
62
0.44%
63
0.39%
64
0.32%
65
0.36%
66
0.49%
67
0.29%
68
0.25%
69
0.21%
70
0.39%
71
0.24%
Level 71-75
16.67%
72
0.25%
73
0.25%
74
0.33%
75
15.60%
Total
100%
100%