!link rel="stylesheet" type="text/css" href="/general/header/style/header.css">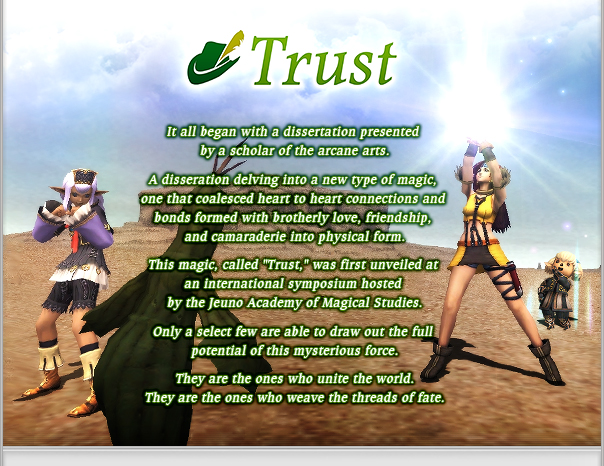 Enjoy adventuring with Trust!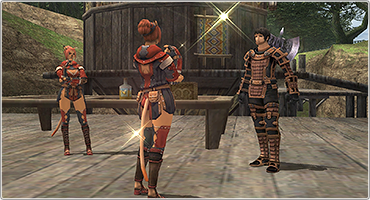 "Trust" is a new type of magic that draws upon the powers of friendship and camaraderie to call forth alter egos of those with whom adventurers have formed special bonds.
Calling forth these NPCs will expand your adventuring possibilities as you borrow their faculties to level up or pariticipate in battle-focused content.
Each Trust NPC has their own party role and will behave accordingly as they aid you.
* The areas in which alter egos of these NPCs can be summoned will be expanded in the future.
List of Alter Egos
Excenmille

Melee Fighter

Penta Thrust

Naji

Melee Fighter

Vorpal Blade

Kupipi

Healer

Healing Magic

Zeid

Melee Fighter

Abyssal Drain

Curilla

Tank

Swift Blade

Ayame

Melee Fighter

Tachi: Jinpu

Nanaa Mihgo

Melee Fighter

King Cobra Clamp

Lion

Melee Fighter

Powder Keg

Trion

Tank

Royal Savior

Volker

Melee Fighter

Berserk-Ruf

Ajido-Marujido

Offensive Caster

Elemental Magic

Shantotto

Offensive Caster

Elemental Magic

Valaineral

Tank

Uriel Blade

Tenzen

Melee Fighter

Amatsu: Yukiarashi

Mihli Aliapoh

Healer

Scouring Bubbles

Joachim

Support

Songs

Prishe

Melee Fighter

Nullifying Dropkick

Ulmia

Support

Songs

Gadalar

Offensive Caster

Salamander Flame

Iron Eater

Melee Fighter

Steel Cyclone

Naja

Melee Fighter

Hexa Strike