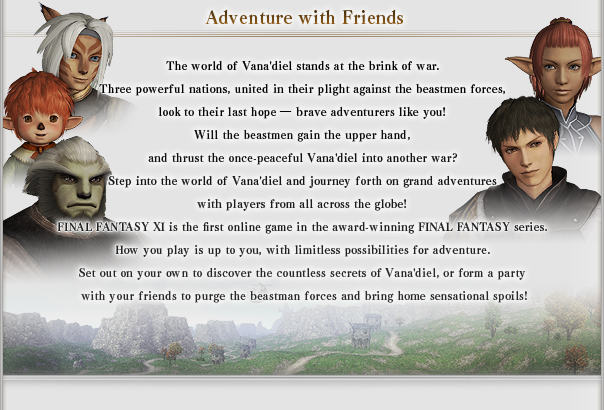 Create Your Own Original Character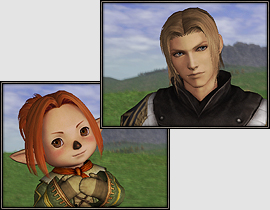 The first step in your adventure is to create your character's traits,
including race, gender, face, hair color, body size, job, and nationality.
This will become your on-screen "alter ego" in the world of FINAL FANTASY XI.
The classic Job System of the FINAL FANTASY series returns in FINAL FANTASY XI.
You can acquire a wide variety of abilities with various jobs -- and even discover new jobs as you play!
Rumor has it that with the proper training,
Vana'diel adventurers can become paladins, bards, and rangers.
What other jobs will you be able to discover?

Communication
The world of FINAL FANTASY XI consists of an international community that exists without borders. Hook up with your existing friends, or meet and greet new adventurers from around the world.
Communicating with other players is the main feature of FINAL FANTASY XI.
Communication is a snap with user-friendly chat, messaging systems, and easily-managed friend lists.
Teaming up with others is the key to success, so don't go alone!

There's More Than Just Combat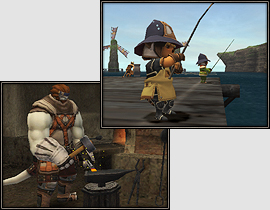 In Vana'diel, your existence is not limited to battling the menagerie of dangerous creatures that lurk outside the city walls.
You can also fish, synthesize items, and spend your time participating in a number of non-combative activities.
Crystals, the origin of all energy, are scattered throughout Vana'diel. By collecting them, you can use their powers to create new items and become a famous craftsman in your own right.
Many other activities await. You can spend the day fishing, surrounded by the rich wilderness of Vana'diel.
Try creating new recipes for fine dishes for your friends.
Aim for riches by synthesizing fine jewelry.
Scour dark mines for precious ores. In FINAL FANTASY XI, combat is just the tip of the iceberg -- if you'd rather enjoy a peaceful life inside the walls of the city, nobody will stop you!


Game Masters, or GMs, are on hand to address any issues players may experience in the game 24 hours a day.
For connection and account issues, the PlayOnline Information Center is also standing by.
The citizens of Vana'diel enjoy a comprehensive level of support unheard of in other online worlds.