!link rel="stylesheet" type="text/css" href="/general/header/style/header.css">
Winners Announced for the 8th Anniversary Fan Art Contest! (06/29/2010)
It gives us great pleasure to announce the winners for the 8th Anniversary Fan Art Contest!

With countless masterpieces submitted, our judges from among the development and operations teams were faced with quite a daunting task in selecting winners. All the winning entries were deemed to be masterful portrayals of the 8th Anniversary theme, captivating the judges with their originality and charm. A much-deserved congratulations to all the winners!


Crystal Prize
Title

With Oboro

Artist

Curry Shop
Artist's Comment
Celebrating the 8th Anniversary as my favorite job, dragoon.
Judge's Comment
• The sprightly Tarutaru dragoon literally jumps out at you! The folk below gazing up fondly is also a masterful touch. With its unique bas-relief picture frame and distinct usage of lines, this masterpiece simply oozes individuality.
Mythril Prize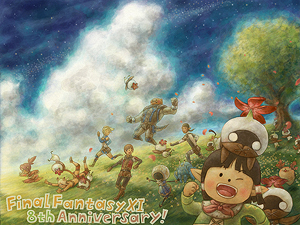 Title
Always at Full Tilt!
Artist
Otake
Artist's Comment

Happiness and fun wait for no adventurer. That's why you should always run like the wind!


Judge's Comment
• A standout number that has delighted judges with its free-spirited mood and soft yet dynamic presentation. Who can resist being drawn in by this carefree, rollicking scene?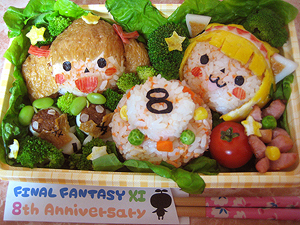 Title
8th Anniversary Lunch Box
Artist
Nachu
Artist's Comment

A Mithra, Tarutaru, and mandragoras celebrating with a cake deep in the forest.


Judge's Comment
• Literally a tasty tribute to the 8th Anniversary.
While the Tarutaru and Mithra are undeniably adorable, it's the mandragoras that have won the hearts of the judges.

• We're sorely tempted to have a bite or three, but could as easily gaze in marvel at this palatable work of art for hours on end.
In the future, we would be keen to see someone rise to the challenge of making art out of a single a la carte dish.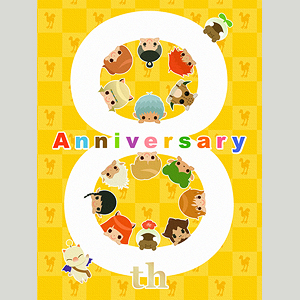 Title
8th Anniversary Poster
Artist
Riru
Artist's Comment

Tarutaru, Mithra, Humes, Elvaan, Galka, moogles--even monsters are invited in join!


Judge's Comment
• Can you get any cuter than this? Why, there's even a Hume sporting a samurai topknot! The chocobo-inspired background lends further warmth to the already adorable assembly of characters. Who wouldn't be delighted to receive this as a postcard?

• Out of curiosity, is it by coincidence that there are 16 characters in total?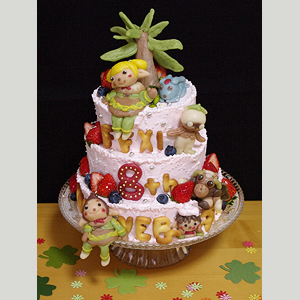 Title
Celebrating on a Starry Hillock
Artist
Kupipi
Artist's Comment
A cake baked and decorated in the spirit of the anniversary.
From the tree and Goblin to the mandragora and Tarutaru, everything you see is edible!
Judge's Comment
• The artist evidently spared no effort in producing this scrumptious three-tiered cake. Among other things, the marzipan characters are a sight to behold...and undoubtedly tasty too! We also couldn't help but notice that the alphabet biscuits have been baked to perfection.