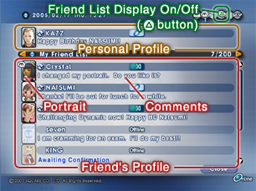 The PlayOnline Friend List is now more convenient and easier to use than ever. In addition to My Friend List
*
, the newly added Group Friend List allows you to communicate with your friends in more diverse ways with functions such as displaying each group member's personal comments on each list.
*The Friend List has been renamed to "My Friend List."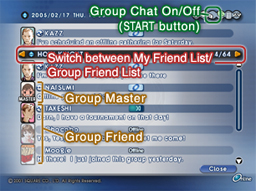 Just like My Friend List, the Group Friend List allows you to share information such as personal comments and portraits, regardless of each member's online status. In addition, there are new functions specific to friend groups, such as "Group Message" and "Group Chat." For example, if you invite FINAL FANTASY XI linkshell members into a friend group, the linkshell members will be able to communicate with each other outside of the game. Even members who log in at different times can use "Comments" and other functions to casually communicate with each other.
*The Friend List shown here corresponds to the PlayOnline Viewer update of March 3rd 2005.
For details, please refer to "The New and Improved PlayOnline!" section of "Quick Manuals."
*The Friend List that will appear in games such as FINAL FANTASY XI may have different designs and controls than the PlayOnline Friend List.