Regarding French and German language switching (02/03/2007)
If you own the European version of "PlayOnline" and "FINAL FANTASY XI" and your Windows PC or Xbox 360 is set to either French or German, your PlayOnline viewer will automatically be displayed in the language of the relevant platform once your PlayOnline viewer has been updated (update planned to be on the 8th of March)

Once the version update is complete, FINAL FANTASY XI will be displayed in the same language as well.




After the version update for PlayOnline or FINAL FANTASY XI, you will be able to switch the language between English/French/German by using the "Language Settings" on the top page of the PlayOnline viewer log in screen.

You can change the language from this screen as many times as you like.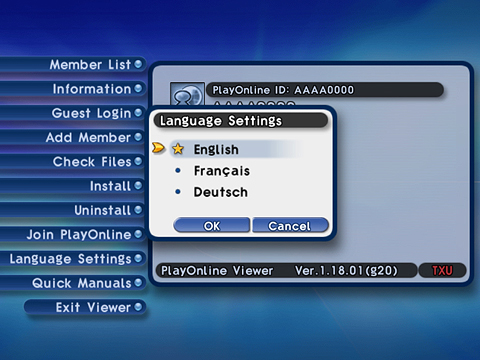 * Tetra Master (Windows version only) will remain in English though.
* If your Windows/Xbox 360 is not set to either French or German, English will be the default language, but you will be able to change it by following the instructions above.
* The "Support Language" which has been set before the version updates will be cleared.