From the FINAL FANTASY XI Development Team
Celebrating the 20th Vana'versary of FINAL FANTASY XI! (16/05/2022)
Dearest adventurers,
Akihiko Matsui, FINAL FANTASY XI Producer, here with a special message.

Today, May 16, 2022, marks FINAL FANTASY XI's 20th Vana'versary.

We've been preparing for this wonderful occasion for a while, with an overarching theme of "We are Vana'diel." Each and every one of us—not just the development and operations teams, but all of you wonderful adventurers—has helped shape Vana'diel into the world it is today.
Over the past 20 years, we've been blessed to have you not only playing our game, but also inspiring us and pushing us to make FINAL FANTASY XI an experience that is constantly improving—something for which we are eternally grateful. Yet more important than any game system or piece of content are the stories that our adventurers have created for each other. FINAL FANTASY XI would have been unable to reach this point on the strength of developer-made stories alone.

The "We" in "We Are Vana'diel" also includes the many people who have worked on FINAL FANTASY XI in the past and have since moved on to other ventures, be they development staff, QA team members, support staff, or any of the myriad other people who have worked to bring the game to you over the past two decades. The infrastructure they helped to create supports the game to this very day, and it is impossible to overstate the effect their efforts have on the running of Vana'diel as we know it now.
Another member of the "we" is the gaming media, whose passion for our beloved world has helped it reach more fans and players than we ever thought possible.
And of course, who can forget those who have supported us most of all as we create the game every day—our families and loved ones.

The 19th year of service was one for reflection as we headed into our 20th, and all the many "wes" of Vana'diel served as inspiration as we looked back on our time here. Thank you all for giving us so much wonderful food for thought.

Slightly ahead of the 20th Vana'versary, we added the song "We Are Vana'diel" as part of the May version update, and the composer was of course none other than Naoshi Mizuta himself. The song plays on the login screen, and I hope you linger for a bit longer than usual before connecting and appreciate this musical masterpiece. The recording took place live with actual instruments—a fitting tribute for a game with as long a history as ours.

We've also updated the logo to a special 20th Vana'versary version.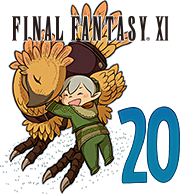 This piece was drawn by Ryoma Ito, and he expressed the idea of the number 20 through the chocobo motif—after all, level 20 is when you're able to ride your own chocobo. Mr. Ito says he remembers when his linkshell mates congratulated him on finally getting his own avian companion, so I can't help but smile at the warm memories this illustration must conjure up.

But enough about the past—let's talk about what Vana'diel's 20th year of service has in store.

The Voracious Resurgence marches ever forward to its conclusion, and as of the May version update we're at just about the story's halfway point. Most of the major actors have made an appearance, and now it's up to the adventurers to prove that they're exactly who Vana'diel needs in this moment. It's also getting close to the time for new battle content so that you can get your hands on the Prime Weapons, which we've been hinting at over the past couple months. Be prepared for a new swath of powerful armaments.

In other battle content news, we're finally going to bring you Empyrean weapon reforging in two separate version updates—one in summer, and one in winter. Odyssey will also see increases to the Vengeance cap, and we're going to keep increasing the maximum Master Level as well.

But lest you think that we're going to rest on our laurels now that the 20th Vana'versary is here, let me assure you that nothing could be further from the truth. We remain ever committed to improving and adding new content to Vana'diel, and the development and operations teams are going full speed ahead. And just as we continue to bring you new story content in The Voracious Resurgence, I hope that you will continue to create your own wonderful stories with your friends, allies, and fellow adventurers. We promise that we'll be with you every step of the way.


Akihiko Matsui
Producer, FINAL FANTASY XI