New ELV Payment Method (08/08/2006)
New ELV Payment Method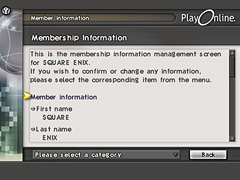 ELV (Elektronisches Lastschriftverfahren) has been added as a new payment method for PlayOnline service fees. Restrictions and other matters of concern regarding usage are described on the following pages.









Eligibility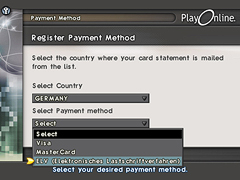 ELV can only be used by members who selected Germany in "Register Payment Method." A German bank account is required to use ELV.

Service Fee Payments
Content ID fees for the current month will be billed on the fifth day of the following month (*If the fifth day of the month falls on a weekend or a holiday,
the due date will change to the previous business day). The service fees will be simultaneously withdrawn from the bank account registered with PlayOnline.

Fees for the initial month (i.e. the first day that fees are incurred to the last day of that month) will be calculated at a daily rate and billed together with the following month's fees. Service fees will differ depending on the type of Content ID and the number of contracts. For details, please refer to the "Content ID Purchasing and Acquiring Verification" screen.



Restrictions
If there is a charge for the previous month (such as a purchased/reactivated Content ID or contract extensions), for 6 business days after the due date, the following procedures will be unavailable due to payment processing.

--Unavailable procedures--
Content ID purchase/reactivation/contract extension
PlayOnline account cancellation
PlayOnline account reactivation
Change of payment method



Content ID Purchasing/Reactivation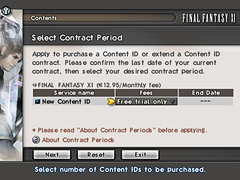 For purchasing/reactivating Content IDs, please pay the service fees for the designated contract period. You will be able to use the services until the end of the contract period.
You can start using a Content ID in its free trial period without paying by selecting "Free Trial Only" as the contract period.






Content ID Contract Extension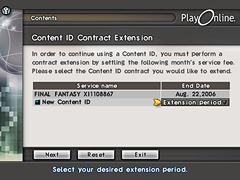 Members using ELV as their payment method will have to perform a Content ID contract extension every month.
Content ID contract extensions can be reached from each game's top page or from the "Membership" section.
This page will only be displayed to those who have selected ELV as their payment method.

In order to continue using a Content ID, you must perform a contract extension (for 1 month) by the last day of the contract.
If you do not perform a contract extension by the last day of the contract, the Content ID will automatically be cancelled the last day of that month.



Regarding failure to pay
If service fees are not paid due to a shortage of money in your bank account, a mistake in your registered payment information, or other reasons,
Your payments will be rejected for 6 business days from the due date.
If your payments are rejected, your PlayOnline account will be suspended and you will be unable to use PlayOnline services until the unpaid service fees are settled.

Because ELV cannot be used to immediately settle unpaid fees, you will need to use a different payment method.
For information on how to pay unpaid service fees and on payment methods other than ELV, please contact the PlayOnline Information Center.

After the payment has been confirmed, your account will be reactivated, but this confirmation may take some time.
Please note that fees incurred at the time of payment are the member's responsibility.

In order to avoid such problems, please verify that your bank account number and other registered payment information is entered correctly.
Also, please verify every month that there is enough money in your bank account to cover service fees.

For details regarding the PlayOnline Information Center, please refer to Service & Support.