Special Task Force (11/06/2006)
We are pleased to announce the official formation of a special task force as of October 2006 that will operate within the greater management team.

Formation of the Special Task Force
The management and development teams have been continuously working to combat the proliferation of RMT and the use of third-party tools within FINAL FANTASY XI. However, it was decided that the formation of a special task force was necessary to specifically address the various occurrences of misconduct that adversely affect game balance.

Focus of the Special Task Force
This special task force aims to reduce or eliminate altogether any elements that adversely influence the world of FINAL FANTASY XI, and to encourage a fun and fair playing environment. The main targets of the task force are as follows:

- RMT (Real Money Trading)
- Third-party Tools

With regards to RMT, we have begun investigation of around 100 web sites in Japan and 50 in North America, and are planning to focus our efforts on the largest and most active sites (30 or so sites in Japan, and 10-15 sites in North America).

We also plan to continue combating the use of third party tools by introducing measures against a wider range of tools (not just those that increase movement speed), and focusing on particularly notorious individuals and organizations.

Specific Duties
The special task force will continue measures currently being taken against tools that increase movement speed, and also expand investigations to include other types of third-party tools. We plan to focus specifically on those tools that allow automated farming, obstruct gameplay for other players, or are related to RMT activities.

We will address the RMT issue mainly through eliminating the presence of gil sellers, but also by warning or penalizing specific players who buy gil regularly and/or in large amounts.

The task force intends to conduct investigations into gil sellers. These investigations seek to eliminate the channels for RMT transactions, as well as sources of gil, and curtail the activities of those who farm gil for the purposes of RMT.

Results of Current Measures
Pursuant to the announcements on the official FINAL FANTASY XI homepage, we have banned multiple accounts in four separate instances and continue to do so. In comparison to the rising and falling numbers of banned accounts, the number of account holders has seen a steady decline.

When canceling accounts, we have seen a trend towards account holders possessing multiple accounts. During the measures taken in July 2006 this trend was prevalent when banned accounts were held by over 2000 users. However, in October 2006 when 1,400 accounts were banned, the number of account holders had decreased to the 300 mark.

Accordingly, the number of accounts being banned per account holder is increasing, and we are progressing in our efforts to remove organized groups of account holders from the game.

As was previously stated, we have adopted a new method of investigation that reaches beyond the in-game limitations, and targets the actual RMT sites.

Within a month, these investigations into RMT sites have resulted in the termination of around 100 accounts, and the removal of several billion gil from the game. At the same time, we have confirmed that several of these sites have shut down or ceased RMT activities related to FINAL FANTASY XI.

To build on this success, we intend to continue refining our measures against third-party tools and RMT, and further expand our field of investigation. We are working on ways to track repeat offenders, and will continue to bring you announcements concerning all account terminations.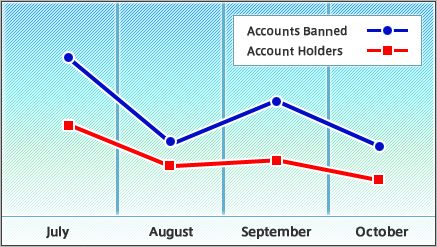 Your Understanding
The special task force will be making all possible progress towards the goals stated above.

However, even with the new methods we have adopted, there still remain some areas that are difficult to cover. Analyzing the game log is a massive undertaking that takes time to produce results and so we ask for your patience in this matter.

To avoid falsely accusing account holders, all investigations will be conducted with equal thoroughness and care. RMT investigations in particular often include organizations formed through multiple accounts, and time must be spent confirming each case.

While it may be initially difficult to see any progress, rest assured that we are building a fair playing environment one dungeon and one notorious monster at a time. While the special task force will be independently gathering information, we also hope to enlist the cooperation of the community in our investigations.

We hope that our players enjoy the game as it was intended and avoid involvement in activities that violate the user agreement.


Special Task Force