From the FINAL FANTASY XI Development Team
Celebrating the 19th Vana'versary of FINAL FANTASY XI! (05/16/2021)
Good day, adventurers.
FINAL FANTASY XI Producer Matsui here.

May 16, 2021, marks the 19th Vana'versary of FINAL FANTASY XI.

Although in many respects it feels like the blink of an eye, as I look back I'm moved to see how each year has built upon the last.

We would never have been able to reach this place without your steadfast support over the years, and for that you have my immense gratitude.

As is customary for the Vana'versary, I'm pleased to share with you a new logo celebrating this event.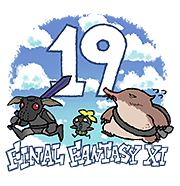 The login screen has already switched over to this logo, so I'm sure many of you have already seen it. Depicted are the three(?) members of The Destiny Destroyers, a mysterious group who is scheming who-knows-what. As the year unfolds, we hope that you'll be able to get to the center of their plot.

The Voracious Resurgence is picking up in speed and volume, with many stories we wanted to tell coming to fruition. One thing I'd like to draw your attention to is that for continuity purposes, players must complete certain missions and events in order to progress in the story. If there are any missions you haven't yet completed, I urge you to do so at your earliest convenience so that you can enjoy the story right as it comes out.

In terms of battle content, we're currently working on a new job progression system. We'll have more details to share with you at a later date and ask you to hold out for just a little while long, as we need to debut this system for all jobs at the same time.

We are also working to expand item storage options, as many of you have requested extra support in this area. However, there are trade-offs to be made, as any increase to storage system capacity comes with an ever-increasing amount of data that needs to be sent. We are currently discussing what is and isn't feasible with our engineers and will provide you with an update as soon as we have more to share.

While the 19th Vana'versary is of course an important milestone, we're already underway planning special events to celebrate the even bigger 20th Vana'versary that will soon be upon us. But for now, I hope that you will join us in celebrating everything that we have built to date, and the entire team remains fully committed to bringing you wonderful, satisfying adventures in Vana'diel. We hope you will join us along this incredible journey.



Akihiko Matsui
Producer, FINAL FANTASY XI