Odin World Character Population (04/14/2008)
This May, FINAL FANTASY XI will celebrate its sixth year of official service.
At present, FINAL FANTASY XI boasts a total of 32 Worlds populated by 1.7 million characters and half a million registered users. Along with the release of the Wings of the Goddess expansion, these numbers continue to grow.
The long-awaited World Transfer Service and the ability to select the World in which to create a character have also been well-received and widely used since their implementation last year.

This continued increase in characters and the advent of unrestricted World selection has led to overpopulation in certain Worlds.
When compared with the average numbers of 55,000 characters and between 15,000 and 16,000 users per World, the Odin World in particular stands out with a staggering 70,000 characters and 23,000 registered users as of the end of March.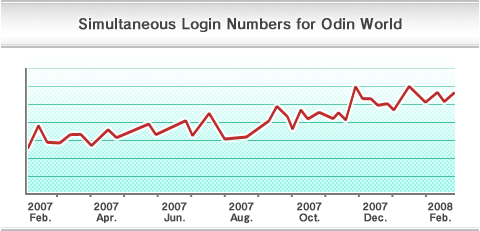 Ordinarily, the overall prosperity and activity of a World is improved in proportion to the size of its population. However, a situation of overcrowding can create game balance issues, such as struggles to claim ordinary monsters and Notorious Monsters, as well as aggravate economic problems. In the worst case scenario, a situation can occur where the restriction on the number of simultaneous connections creates login problems, changing areas becomes a lengthy or limited process, or a limit is placed on the creation of new characters.

To avoid these very issues, a free World Transfer was offered to the inhabitants of Odin. While many players accepted this offer, the situation of overpopulation remains relatively severe.

With quality of service first and foremost in mind, the development and management teams are devising solutions to this problem on Odin and other Worlds. Removal from the list of destinations for a World Transfer or the list of Worlds available on the character creation screen, as well as continuing to provide free World Transfer services, are some of the ideas being considered for overpopulated Worlds.

We hope that our players will also take these factors into consideration when utilizing the World Transfer Service or choosing a world for their new character.

Thank you for your continued understanding and cooperation.

The FINAL FANTASY XI Development and Management Teams