Produce your own wedding! Presenting the new wedding support service! (10/13/2009)
The wedding service that has blessed countless couples in the holy bonds of matrimony will soon be reborn as an easier-to-use and even more extravagant service!
All of you out there thinking about a beautiful wedding in Vana'diel, why not ask one of the in-game NPCs about that special moment with your partner that will stay with you forever?

It's been difficult to answer all the wedding requests up until now due to the restrictions on weddings such as applications needing to be submitted by a chaperone and Wedding Masters being overbooked. Taking all of these issues into consideration, we've re-evaluated the entire wedding process and have decided to implement a new wedding system with the following features. We hope that everyone who's ever dreamed of getting married will soon realize that dream.

A new wedding page!
Starting with the knowledge you'll need to get married, you might want to first take a look at the special wedding page we plan to add in the near future. This page will be packed with information on the Wedding Masters' lines and movement as they preside over the ceremonies and the vows exchanged between the bride and groom. No longer will you have to apply for a wedding ceremony and restlessly wait for the results of the lottery. Using the wedding page for reference, just pick whatever date, time, and location you want and you're ready to go! It's that easy!

Wedding Masters will regularly show up around Vana'diel!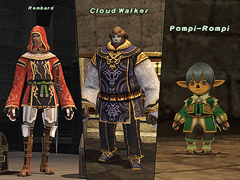 You can expect to start seeing the Wedding Masters as NPCs in the three nations pretty soon.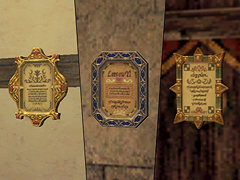 If you've used the wedding page as a reference to conduct your own wedding, you can equip the rings that you exchanged during the vows and speak together with one of the Wedding Master NPCs in the three nations. The NPC will present you with a "marriage certificate" as proof of your wedding in Vana'diel. Since this is a furnishing, you can use it to decorate your mog house as a memento of that oh-so-important day in your life.

*If you've gotten married through the regular wedding service, you can also receive a marriage certificate by speaking with the NPC together while your wedding rings are equipped.

A plethora of vibrant wedding items available!
All of the necessary wedding items that up until now only the NPCs had carried such as the Wedding Master's wedding bells, items for playing special music only heard at weddings, and rings and dresses, will soon be on sale for anyone who needs them.

Make your wedding ceremony even more glamorous with Player Event Support!
How would you like to design and produce your own wedding or maybe even a friend's?!
With over 200 objects available for placement, a huge selection of areas to choose from, and even the ability to change the dialogue used in the ceremony, by using Player Event Support, you can make an infinite variety of ceremonies come to life with your ideas!

Click here for the Player Event Support application.

Future schedule
The new wedding service is scheduled to start on November 18th (Wednesday). The regular wedding service will be concluding on November 17th. No wedding applications will be accepted after November 1st (Sunday) 10:59pm (PST).