from FINAL FANTASY XI Development Team
New Aht Urhgan Missions!(06/26/2006)
The next version update will bring the release of a new region, new mercenary ranks, and the long-awaited continuation of the Treasures of Aht Urhgan storyline in the form of new missions.

New Missions
The FINAL FANTASY XI Development Team left difficult battles out of the early Treasures of Aht Urhgan missions in order to allow as many players as possible to enjoy the new content. However, the new missions will be aimed for higher level players, reinforcing the words of Naja Salaheem: "Salaheem's Sentinels only takes the best of the best, the crrream of the crop!"

Fierce adversaries and the mysteries of the Aht Urhgan Empire await you!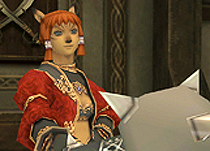 New Mercenary Ranks
The next version update will introduce two new mercenary ranks and their corresponding rank evaluations.

One of the new rank evaluations will be themed after helping out the less experienced.

A New Region
The new region "Ruins of Alzadaal" will be added to the Aradjiah continent.

At first, only a part of the area "Alzadaal Undersea Ruins" will be accessible, but other areas will gradually be made available by subsequent version updates.