10th Anniversary Screenshot Contest (10/12/2012)
In case you missed out on the 10th anniversary celebratory concert held in Berkeley, CA a couple of weeks ago -- have no fear! There is still a chance to get involved in the festivities for celebrating a decade long of adventuring. Follow FINAL FANTASY XI on Twitter (@FFXI_EN) and tweet us a nice anniversary message along with a screenshot of your character donning anniversary equipment from ANY year. The location of the screen shot is up to you! The Community Team will be selecting two of their favorite screen shots each day and sending the chosen players a Nomad Moogle Rod.

Iron and press your anniversary clothing of choice, because this is an occasion to dress to impress!

Contest Period:
October 15, 2012 (Monday) to October 19, 2012 (Friday)

How to Enter:
- Players must be following the official FFXI English Twitter account (@FFXI_EN)
- Players must be wearing anniversary gear in the screenshot and include an anniversary message in their tweet. Visible pieces from the below gear sets will be accepted:

Dinner Suit set / Novennial Set / Decennial Set

- Players must include their character name in the screenshot (/nameson) and world name in the tweet.
- Send your tweet to @FFXI_EN along with the #FFXI hashtag
- Limit one screenshot per day (first one sent will be the only one we consider for prizes each day)
- Limited to North America Square Enix Accounts only.

Example Tweet entry:
"@FFXI_EN Here's to 10 years of hardcore adventuring! [screenshot here] #FFXI Atomos"

Prizes:
Nomad Moogle Rod
*Must have an active account to receive the Nomad Moogle Rod.
This is an in-game item and has no monetary value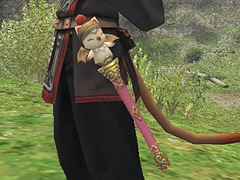 Winner Selection:
The Community Team will select two winners per day (for a total of 10 winners during the contest period).
Selections will be made around 6:00PM PDT each day, so make sure to get your screenshots for the day in by then!

Winners will be notified via Twitter Direct Message. We'll also retweet the winning tweets!

SQUARE ENIX OWNERSHIP OF ENTRIES

All entries and other materials (the "Entry Materials") (including all copyright, trademark, and other proprietary rights associated therewith) submitted by you become the property of Square Enix upon submission, and Entry Materials will not be returned to any contestant. Without limiting the generality of the foregoing, you acknowledge that Square Enix will own all rights to use, modify, and make derivative works of the Entry Materials, without separate compensation to you or any other person or entity. You agree to take, at Square Enix's expense, any further action (including, without limitation, execution of affidavits and other documents) reasonably requested by Square Enix to effect, perfect, or confirm Square Enix's ownership rights as set forth above in this paragraph. Entry Materials may be used by contestants only for purposes of the Contest or for private, personal, non-public viewing. Entry materials received by Square Enix may be destroyed by Square Enix at any time following the Contest.

ORIGINAL WORK OF AUTHORSHIP

You hereby warrant and represent that (a) as between you and parties other than Square Enix, you own all rights to all Entry Materials submitted by you; and (b) other than the fact that all intellectual property embodied in and related to the FFXI game, including all copyrighted works and trademarks and derivative works thereof, are the exclusive property of Square Enix, all such Entry Materials are original works of authorship on your part and have not been copied, in whole or in part, from any other work and do not violate, misappropriate, or infringe any copyright, trademark, or other proprietary right of any other person or entity.