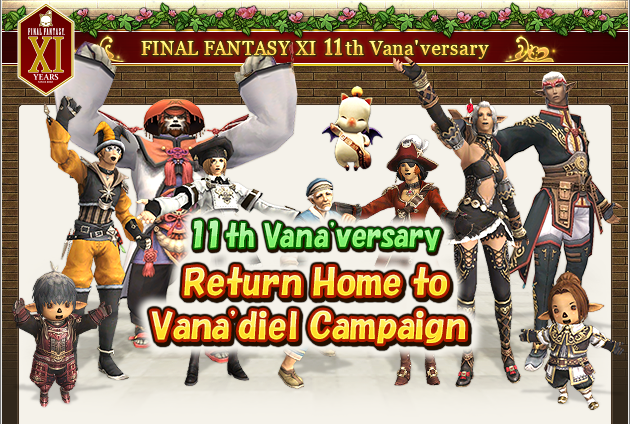 To continue the celebration of eleven years of FINAL FANTASY XI, we will be holding two exciting Return Home to Vana'diel campaigns!
Various adjustments and elements designed specifically to enhance the level of convenience for adventurers will be introduced in the upcoming December version update! Experience the world of Vana'diel once again, now more accessible than ever!



New Elements Set to Appear in the December Version Update

-
Trust system: Team up with famous personalities from throughout Vana'diel!
-
Records of Eminence: New content to tackle while playing solo!
-
Faster movement: 25% movement speed increase in outdoor areas!
-
Teleporting between home points: Even more convenient ways to travel!
-
In-game currency menu: See all your currency and standing at a glance!
-
Wide Scan expansion: Utilize this feature regardless of your job!
-
Increased Mog Garden availability: Access for those who have not registered Seekers of Adoulin!
-
And a bevy of other adjustments!


The trial version of the Adventuring Primer is waiting to impart a wealth of information to you about the numerous pieces of content that compose the adventuring world of Vana'diel. All you have to do is open its cover and knowledge will come pouring forth! May it prove invaluable on your journeys throughout Vana'diel.


| | |
| --- | --- |
| * | The fully fleshed-out version will be available in the following days, so make sure to check back periodically |


Flip through the digital pages of the guide.

Any currently inactive player that has ever subscribed to FINAL FANTASY XI in the past will be able to play free for a limited time and experience all the changes!



Campaign Schedule:

Tuesday, December 10, 2013 at around 7:00 a.m. (PST)
to Monday, December 23, 2013 at 6:59 a.m. (PST)




How to participate in the "Vana'diel Experience Campaign"

During the Vana'diel Experience Campaign, all players will automatically have their inactive accounts reactivated. Log in as normal and immerse yourself in Vana'diel as much as you wish for the duration of the trial!

Those who no longer have access to their FINAL FANTASY XI installation discs will be able to download the complete all-in-one package for free (*registration code not included).



*
Only PlayOnline accounts that have been transferred to a Square Enix account are eligible for this campaign.
*
Users will be able to play free of charge for the duration of the campaign.
*
Once the campaign has concluded, you will need to subscribe if you wish to continue playing.

For a limited time, we are offering users the ability to download the game software of the FINAL FANTASY XI: Ultimate Collection Seekers Edition (digital download version), which contains every expansion from "Rise of the Zilart" to the latest "Seekers of Adoulin"!

Taking advantage of this will allow users to participate in the Vana'diel Experience Campaign as well!



Campaign Schedule:

Friday, December 6, 2013
to Monday, December 23, 2013 at 6:59 a.m. (PST)




Instructions for Installing the FFXI: Ultimate Collection Seekers Edition




Please note:
-
The bonus in-game items received for purchasing the retail version of FINAL FANTASY XI: Ultimate Seekers Edition (Destrier Beret and Chocobo Shirt) will not be included in this promotion.
-
In addition to downloading the FINAL FANTASY XI: Ultimate Collection Seekers Edition, users will need to reactivate their previous PlayOnline / FINAL FANTASY XI account in order to play.
-
A registration code for the FINAL FANTASY XI: Ultimate Collection Seekers Edition is not included with the download.





| | |
| --- | --- |
| * | Players participating in the Vana'diel Experience Campaign will have their accounts reactivated automatically. There is no need for players to take any action to reactivate their account. |