Upcoming Changes to Utsusemi and Ranged Attacks
FINAL FANTASY XI Development Team(6/30/2005)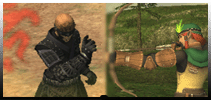 Alterations will soon be made to Utsusemi and ranged attacks. For more information, please click here.






Bundling Ninja Tools and More!
FINAL FANTASY XI Development Team(6/28/2005)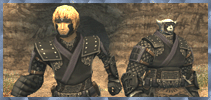 After the next version update, you will be able to bundle your stacks of ninja tools! We will also be adding storage capabilities for a recently added suit of armor, and increasing the number of items that you can obtain by exchanging conquest points! For more details, click here.






Enemy Locations in Crowded Areas to Change
FINAL FANTASY XI Development Team(6/24/2005)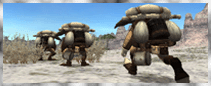 Recently, FFXI's incredible popularity has led to a population boom! The introduction of the Merit Point system and the rapid increase in the number of missions and quests have also increased the traffic in several select areas.

In order to allow everyone room to engage in battles to their heart's content, the FFXI development team will be adjusting enemy locations in the next version update. The bulk of the changes will be to areas from the newest expansion pack, "Chains of Promathia." These adjustments will give players more freedom when choosing where to battle.

The next version update is currently in the testing phase, so look forward to experiencing it soon!






Thrilling New Quests on the Horizon!
FINAL FANTASY XI Development Team (6/22/2005)

Adventurers, take up your swords and staves! A plethora of action-packed quests is currently in the works for the upcoming FINAL FANTASY XI version update. For more details on what lies ahead, click here!






Preorder Your Vana'diel Clock Today!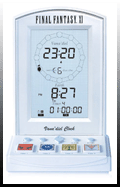 Due to unprecedented demand, the FINAL FANTASY XI Vana'diel Clock is being re-released! This clock displays the time, date, and day of the week in both Vana'diel time and Earth time along with the phases of Vana'diel's moon. You can set four different alarms or countdown timers which play the background music from San d'Oria, Bastok, Windurst, and Jeuno. Use them to remind yourself when a ferry or airship is scheduled to depart, when a guild shop is opening, or when a special ability is ready for use again! Or, just use this classy timepiece as an everyday alarm clock.

Preorders have already begun, so don't miss out!






New Notorious Monsters and Battlefields on the Way!
FINAL FANTASY XI Development Team (6/17/2005)

The FFXI development team will soon add a slew of notorious monsters! These monsters may be challenged in several areas, and others may be discovered during all-new quests! As if that weren't enough, brand-new battlefields await, including rematches with formidable opponents from Chains of Promathia! Keep your eyes peeled for this exciting new update!

More information will be released at the time of the update in mid-July.






Upcoming Version Update
FINAL FANTASY XI Development Team (6/14/2005)

The development team is currently working on the next version update, which will include all the usual goodies--new quests, new Notorious Monsters, and various system additions and improvements--as well as the thrilling climax to the Promathia story. Watch this space for the latest announcements regarding update details.

The next version update is scheduled to take place in mid-July.






Applying for World Emigration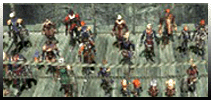 The character population has increased significantly for many Worlds and shows no sign of slowing down. To help balance the overall distribution of adventurers, we have decided to invite players from select Worlds to emigrate to less heavily populated Worlds.

Click here for further details.






Part II of the "Return Home to Vana'diel" begins!

As of today, June 7, at 4:00 p.m. PDT, Part II of the anxiously anticipated "Return Home to Vana'diel" campaign is in full effect!

Don't miss your chance to go on exciting new adventures with your old character! The world of Vana'diel awaits your return!

All those interested, click here!

*Please note that we expect slight congestion on the first and last days of the campaign. To ensure site access, we ask that you try to avoid these times.