The New and Improved Friend List!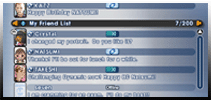 On March 3rd, the PlayOnline Viewer Friend List was updated with several new and exciting features such as the Group Friend List. These additions are also scheduled to be implemented within FINAL FANTASY XI later this spring.

For further information on the Group Friend List and more, click here.




ENM Madness
FINAL FANTASY XI Development Team (3/30/2005)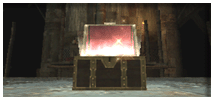 Ever since their implementation in the February version update, Empty Notorious Monster (ENM) quests have been taking Vana'diel by storm! But what you've seen has only been the tip of the iceberg! Our next update, planned for late April, will introduce even more action-packed, white-knuckle battles for parties of all shapes and sizes. There will also be various system changes that will allow you to take on the nefarious beasts with even more of your friends!

Keep an eye on this page for all the latest details!




Git Clammin'!
FINAL FANTASY XI Development Team (3/29/2005)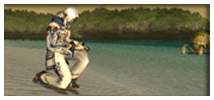 For all you clammers out there, we have some great news--the ever-popular Purgonorgo mini-game is being made even better! Fill your bucket to the brim without busting its bottom, and you'll be rewarded with an even bigger receptacle to test your clamming skills! And with a larger bucket, who knows what treasures you'll be taking home after a day of digging?

Visit the topics section regularly for more details on clamming and other changes planned for the next version update!




Egg Hunt Egg-stravaganza
FINAL FANTASY XI Development Team (3/24/2005)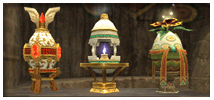 The Egg-Hunt Egg-stravaganza is back and better than ever! It's as simple as collecting "initial eggs," trading them with your friends, and cashing in your "combinations" for a basketful of egg-citing prizes! Anybody can play, so hurry up and find your nation's Moogle representative right now! What have you got to lose!? Click here for further details.




Equipment Storage
FINAL FANTASY XI Development Team (3/24/2005)


In the previous version update, a new service was added allowing players to safely store full sets of artifact armor for a small fee. Due to the positive feedback regarding this new feature, the development team has decided to expand the equipment storage service to include over thirty new sets of various low-level armor and clothing. After trading a full set (consisting of 4 to 5 pieces) to one of four NPCs located in each of the major nations, players will receive a claim slip that can be presented when they wish to have their armor returned.

Whether for level-restricted orb battles, Promathia missions, or for raising support jobs, low-level equipment can eat up a lot of room in a player's Mog Safe. Utilizing this feature will make it easier to store and retrieve space-consuming armor sets, while leaving Mog Safes open to hold more important items. The days of throwing away sleepshrooms to open slots for your silver gauntlets are over!

Further details on the expanded service will be made available in the version update announcement released in late April.




Upcoming Version Update
FINAL FANTASY XI Development Team (3/22/2005)

The development team is currently working on the next version update, which will include all the usual goodies--new quests, new Notorious Monsters, and various system additions and improvements--as well as the next installment of the Promathia story. Watch this space for the latest announcements regarding update details.
The next version update is scheduled to take place in late April.






FINAL FANTASY XI iGames Tour 2005 Gardena Report! (3/6/2005)

400 FINAL FANTASY XI fans packed Internet PC Cafe in Gardena, California for the first stop of iGames Tour 2005! Events included FINAL FANTASY XI free play, Ballista, a Tarutaru marathon, Q&A panel, and pictures with beautiful Mithra. Be sure to check out the post-event site!






Ballista Point Ranking
FINAL FANTASY XI Development Team (3/2/2005)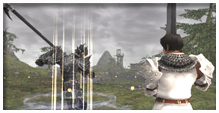 The new Ballista Point Ranking system is ready to record your triumphs. Speak to your nearest Marshal and find out more today! Details here.