Experience the Fantasy With Friends!

The all-new Vana'diel Adventurer Recruitment Program (VARP) begins on May 11th. Now, inviting a friend to join you in FINAL FANTASY XI's ever-expanding online realm can earn you and your buddy a Gobbiebag full of spectacular items. Check out the official VARP page for further details on all the benefits of this exciting program!






Feast of Swords
FINAL FANTASY XI Development Team (4/28/2005)

The moogles are busy getting ready for the upcoming festival known as the "Feast of Swords." Just recently, however, their frantic preparations seem to have hit a snag...

Click here to find out more!






Ballista Royale is coming to North America!
Community & Service (4/22/2005)

Attention all aspiring Ballista professionals! Ballista Royale, the Ballista championship extravaganza, is coming to North America! Stay tuned to PlayOnline.com for more announcements about this unique player-vs.-player tournament. In the meantime, be sure to brush up your Ballista skills and check out the most recent Ballista updates!






The Boss Battle Bash is coming...
Community & Service (4/22/2005)

Beginning with this month's event in Aiea, Hawaii, we're introducing a brand new hard-hitting attraction for FINAL FANTASY XI live events. Just what is the mysterious Boss Battle Bash? Find out more here, if you dare...






Welcome Back!

As of today, April 14, part I of the "Return Home to Vana'diel" campaign is in full effect! For all of you who thought that unsubscribing to PlayOnline locked you out of the FINAL FANTASY XI world forever, think again! Square Enix has unlocked the gates of adventure, and is awaiting your return!

All those interested, click here!

*Please note that we expect slight congestion on the first and last days of the campaign. To ensure site access, we ask that you try to avoid these times.






The Version Update has Arrived!
FINAL FANTASY XI Development Team (4/20/2005)

The April version update is here, with all the additions and improvements you've been reading about! Keep an eye on Topics for all the news and previews when the next version update rolls around!

Click here for detailed information on the April version update.






Harvesting Adventure!
FINAL FANTASY XI Development Team (4/19/2005)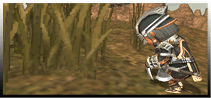 From new quests and items to adjustments in mining and harvesting, the April version update will bring dozens of exciting changes in several different areas. Click here for further details!






New Areas!
FINAL FANTASY XI Development Team (4/18/2005)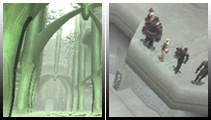 The FINAL FANTASY XI development team is currently working on several new areas to be released in the upcoming version update. What adventures await you in these unexplored new lands? Click here to have a sneak peek!






Enter the world of FINAL FANTASY XI for only $19.99!
Community & Service (4/17/2005)

That's right, FINAL FANTASY XI for Windows is on sale now for only $19.99! Discover the magic yourself, or introduce a friend to the world's most amazing and deep online experience. As always, a 30-day free trial is included so you can create multiple characters and begin to explore Vana'diel free of any worries. See you in Vana'diel!






An Important Notice Regarding Experience System Revisions
FINAL FANTASY XI Development Team (4/15/2005)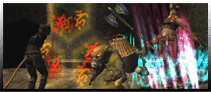 Our next version update will implement changes to the experience system. These changes will be applicable to players who are level 51 and above. Click here for more details.






Going Ballistic for Ballista
FINAL FANTASY XI Development Team (4/12/2005)

Calling all Ballista freaks! In the version update coming later this month, the development team will be introducing an all-new area just for you! For more details, click here!






Exclusive FINAL FANTASY XI Wallpapers from Logitech!
Community & Service (4/12/2005)


Get the ultimate massively multiplayer fantasy for your desktop! Download exclusive FINAL FANTASY XI wallpapers from the Logitech website today and check out the Logitech Cordless Rumblepad 2, the first officially recommended controller for FINAL FANTASY XI.




New Equipment, Synthesis Recipes, and More!
FINAL FANTASY XI Development Team (4/6/2005)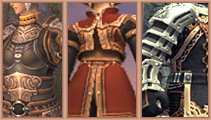 In our next version update we will be introducing new equipment and synthesis recipes, as well as additional items to purchase with your guild points. Click here for a preview of the latest gear!

Further details will be announced at the time of the version update.




Strike a Pose!
FINAL FANTASY XI Development Team (4/4/2005)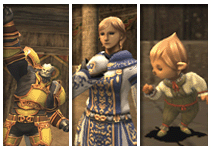 Have you ever wished you could change the pose of your mannequin? Well, following the next version update, your wildest dreams will come true! Just complete a series of quests, and Fyi Chalmwoh of Mhaura's Goldsmiths' Guild will reshape any of your mannequins to the following:

/sit
/salute (San d'Oria, Bastok, Windurst)
/hurray

As well as special poses for each of the races!

Keep an eye out for more information on mannequins in the coming weeks!




Fishing Frenzy!
FINAL FANTASY XI Development Team (4/1/2005)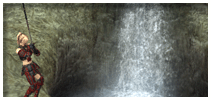 The FINAL FANTASY XI development team is currently working on a plethora of new changes to the fishing system. To reel in more details, cast your line here.




FINAL FANTASY XI iGames Tour 2005 Continues!
Community & Service (4/1/2005)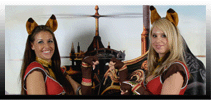 After last month's hugely successful kickoff in Gardena, we're excited to announce the next stop on FINAL FANTASY XI Tour 2005. This time we're traveling to PC Gamerz in Aiea, Hawaii on the beautiful island of Oahu! Join us for an evening of fun and adventure in Vana'diel. From total newbies to seasoned veterans, we'll have FFXI events, contests, Q&A, fun and prizes for everyone! More details here!